Best GPS Watch: Garmin Forerunner 910XT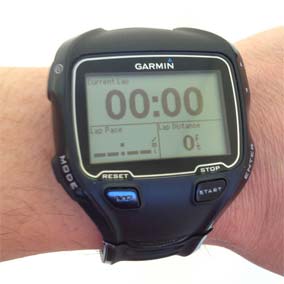 My Last GPS Watch was the Garmin Forerunner 305. Which was a fantastic watch. Worked perfect, only downfalls were the huge size and afters years and years of use the battery didn't hold the charge like it use to. So, I went shopping for a new watch and picked up the Garmin Forerunner 910XT at Clever Training. So far I am loving it's features, plus it is a whole lot less bulky than the Forerunner 305.
Like my last Garmin, the 910XT can hold up to 4 data fields on one screen. Which is important to me, I don't like pressing buttons when I run. There is another cool feature of the Forerunner 910XT which it has auto-scroll . I can enabled this to scroll through the various data screens at a slow, medium, or fast pace.
I only use the watch in the run mode, but it has Bike Mode and Swim Mode as well since it's water proof. There is also Multi-sport Mode & Triathlon Mode.
The watch is filled with nice touches like the backlight on the display will automatically light up on laps or when it's time to start your next interval. One of the best features is the Virtual Racer. The 910XT allows you to pick a previous run (or download somebody else's run) and race that exact course. Instead of maintaining a steady pace, the Virtual Racer adjusts based on how fast you ran at that point in time in the race.
Bottom line is this is just an awesome watch. That Simple.