Browsing all articles tagged with muscle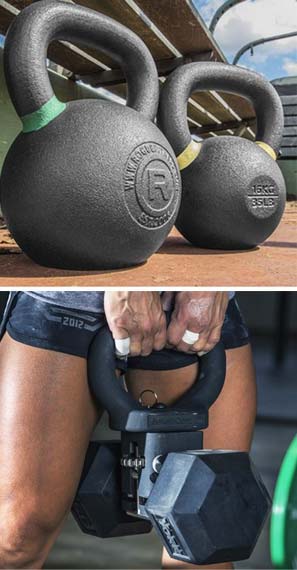 Kettlebells are a great thing to add to your home gym. The Kettlebell swing works all the muscles from the base of your skull to your Achilles tendons. Best of all it will help you get the perfect rump.
There are 2 types pictured to the left. First we have the The Rogue Kettlebell which is made from premium material: the highest quality first run iron ore available, not scrap. It is cast in one solid piece, creating a stronger, more reliable handle and a void free surface. The Rogue Kettlebell does not use plastic caps, plugs, or patches like lower quality products.
Second we have the KettleClamp. It will turn any Dumbbell into a Kettlebell. No matter if you have been newly introduced to kettlebells through CrossFit, or are an RKC certified instructor, the KettleClamp offers an uncompromised kettlebell experience. The KettleClamp makes kettlebells accessible to virtually anyone by turning ANY dumbbell into a kettlebell. The KettleClamp was created using state of the art design & manufacturing technology. To ensure an authentic feel, the KettleClamp is constructed entirely from cast aluminum and stainless steel. The KettleClamp is a strong, fast, safe, and durable adjustable kettlebell that fits into your gym bag and budget.
You shouldn't have to be worrying about whether you can physically handle it before you step foot on a golf green. However that is exactly what happens if you are not fit before you play golf. Golf is a long game. Golf can wear you out. You need to bend over a lot and pick up balls. If you are overweight this might be a big issue for you;You also don't want to be out of breath, sweating because of the exertion of pulling the cart around the green. If you examine the physiques of most professional players you will notice that they are taut and fit and lean before they enter the green.
Studies on performance  have shown that one way golfers can improve their performance on the green is by embarking on a program of  weight training. This is because weight-training exercises can noticeably improve personal muscle strength and hip and shoulder flexibility. Lifting weights up and down can help improve the health.
Professionals also work out with weights to increase the speed with which they can hit the ball. This is because a golf ball needs lean muscle to drive it, not flab. Believe it or not, upper arm flab can actually slow down the speed of a golf swing. This is because the golf club itself is an extension of your arm and your drive and the force with which you can whack the ball.
If you are an amateur who wants to play like a professional your best course of action is to put yourself on a program of regular exercise that is a combination of  different kinds of exrcise.  However be sure to include the weight lifting.. It is recommended that you do three sets of the usual weight lifting and resistance training exercises that are prescribed by most trainer at gyms and work out clubs.  If you do three sets than these three times a week for 2 1/2 hours then you will substantially improve your game.
If you find it difficult to fit weightlifting into your schedule then one way to cut down your work out time might be to buy a home workout bench. f you work out every day for twenty minutes on a home gym then you will get the same results as if you had spent a couple of hours, three days a week at a professional club.
Recent Posts
Tags