Browsing all articles tagged with Vest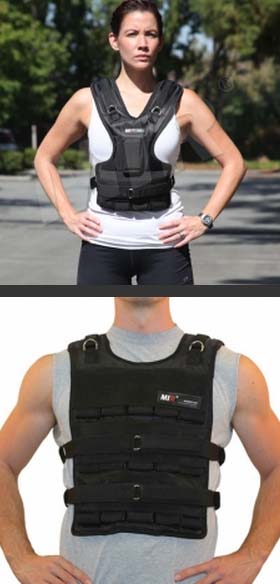 Weighted Vest are a great tool to maximize your workout. Personal I use them to do a ton of lunges with, but you can use them for running, walking, and a ton of other uses. The Women's vest shown is the MiR Women vest. With 10-50lbs of weights, they designed a vest that has weight distributed equally to ensure comfort throughout the workout. No matter if it's running, walking, or an intense workout. MiR women vest is design to let you breathe easy and train hard. With adjustable straps, and shoulder straps, it gives you the secure and snug fit that you want out of all vest. It gives you the range of motion, and yet is a perfect fit for your body. Made with 1200 D-Nylon, it gives you the comfort and durability at the same time. Workout with MiR Vest, and get back in shape again, get that body you want, quicker and better.
The Men's vest shown is the MiR Weighted vest that can hold up to 120lbs. The removable weights are located high on the torso to protect the stomach from pounding as you run and workout. The vest features double-padded shoulders for added comfort, and mesh vented inside for breathability. The padding is designed to be contoured to your shoulder for maximum comfort. There are two adjustable straps that can be adjusted underneath so you can easily adjust the body length of the vest by sliding the straps up and down through the D-rings. To adjust the weight level, remove or transfer the weights from the packets which secure the weights with the durable hook and loop weight closures.
Recent Posts
Tags