Browsing all articles tagged with run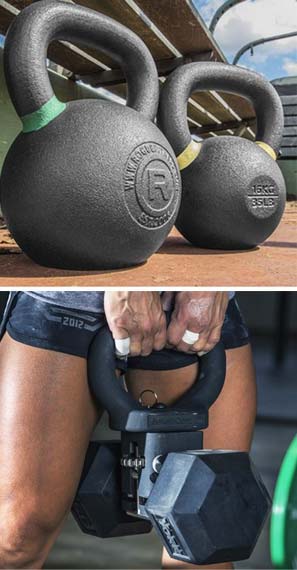 Kettlebells are a great thing to add to your home gym. The Kettlebell swing works all the muscles from the base of your skull to your Achilles tendons. Best of all it will help you get the perfect rump.
There are 2 types pictured to the left. First we have the The Rogue Kettlebell which is made from premium material: the highest quality first run iron ore available, not scrap. It is cast in one solid piece, creating a stronger, more reliable handle and a void free surface. The Rogue Kettlebell does not use plastic caps, plugs, or patches like lower quality products.
Second we have the KettleClamp. It will turn any Dumbbell into a Kettlebell. No matter if you have been newly introduced to kettlebells through CrossFit, or are an RKC certified instructor, the KettleClamp offers an uncompromised kettlebell experience. The KettleClamp makes kettlebells accessible to virtually anyone by turning ANY dumbbell into a kettlebell. The KettleClamp was created using state of the art design & manufacturing technology. To ensure an authentic feel, the KettleClamp is constructed entirely from cast aluminum and stainless steel. The KettleClamp is a strong, fast, safe, and durable adjustable kettlebell that fits into your gym bag and budget.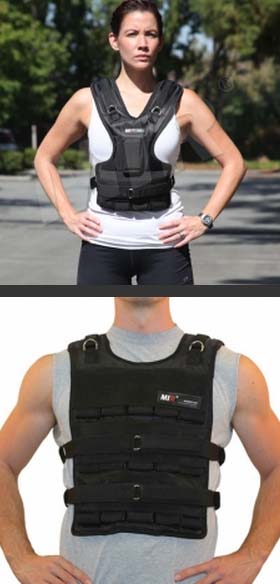 Weighted Vest are a great tool to maximize your workout. Personal I use them to do a ton of lunges with, but you can use them for running, walking, and a ton of other uses. The Women's vest shown is the MiR Women vest. With 10-50lbs of weights, they designed a vest that has weight distributed equally to ensure comfort throughout the workout. No matter if it's running, walking, or an intense workout. MiR women vest is design to let you breathe easy and train hard. With adjustable straps, and shoulder straps, it gives you the secure and snug fit that you want out of all vest. It gives you the range of motion, and yet is a perfect fit for your body. Made with 1200 D-Nylon, it gives you the comfort and durability at the same time. Workout with MiR Vest, and get back in shape again, get that body you want, quicker and better.
The Men's vest shown is the MiR Weighted vest that can hold up to 120lbs. The removable weights are located high on the torso to protect the stomach from pounding as you run and workout. The vest features double-padded shoulders for added comfort, and mesh vented inside for breathability. The padding is designed to be contoured to your shoulder for maximum comfort. There are two adjustable straps that can be adjusted underneath so you can easily adjust the body length of the vest by sliding the straps up and down through the D-rings. To adjust the weight level, remove or transfer the weights from the packets which secure the weights with the durable hook and loop weight closures.
Recent Posts
Tags